Rotterdam Review
'Sons Of Denmark'
Two Muslim men struggle with life in a highly radicalised society

By Wendy Ide, screendaily.com

[A]n ambitious, provocative, politically charged thriller from Danish feature-debutant Ulaa Salim. -- Neil Young (Hollywood Reporter)

Youssef is a forceful presence in the film, but he is ill-served by a screenplay which seeks to shock in its depiction of hate crimes and violence but loses credibility with its rather slap dash version of police procedure. -- Wendy Ide (Screen International)

Polarisation and radicalisation send fractures through an alternative version of Denmark which has drifted so far to the right that a populist party campaigning on a ticket of thinly veiled ethnic cleansing is now the preferred option with voters.



Reflecting as it does the rise in neo-Nazi ideologies in Europe, Sons Of Denmark is undoubtedly timely. Ulaa Salim's film grimly explores that ways that young Muslim men, disenfranchised by a society which views them as a potential problem, can turn to violence. But the hard-hitting and sometimes crude approach of the film does not always serve the material well.

The hot button theme should make this picture a talking point on the festival circuit. But despite a neat shift to a new protagonist at the halfway point, the film sits a little uncomfortably in an overlong running time – it's a tough watch which doesn't spare the viewer the grim realities of the things men do in the name of hate. A tighter edit might improve its commercial chances.

A pre-title sequence shows the personal cost of a terror attack – a young couple who are making flirty plans to meet up later are caught in the blast, leaving one dead and the other devastated.
Clips of news reports talk of a new nationalist party which claims that "all problems can be traced back to immigrants".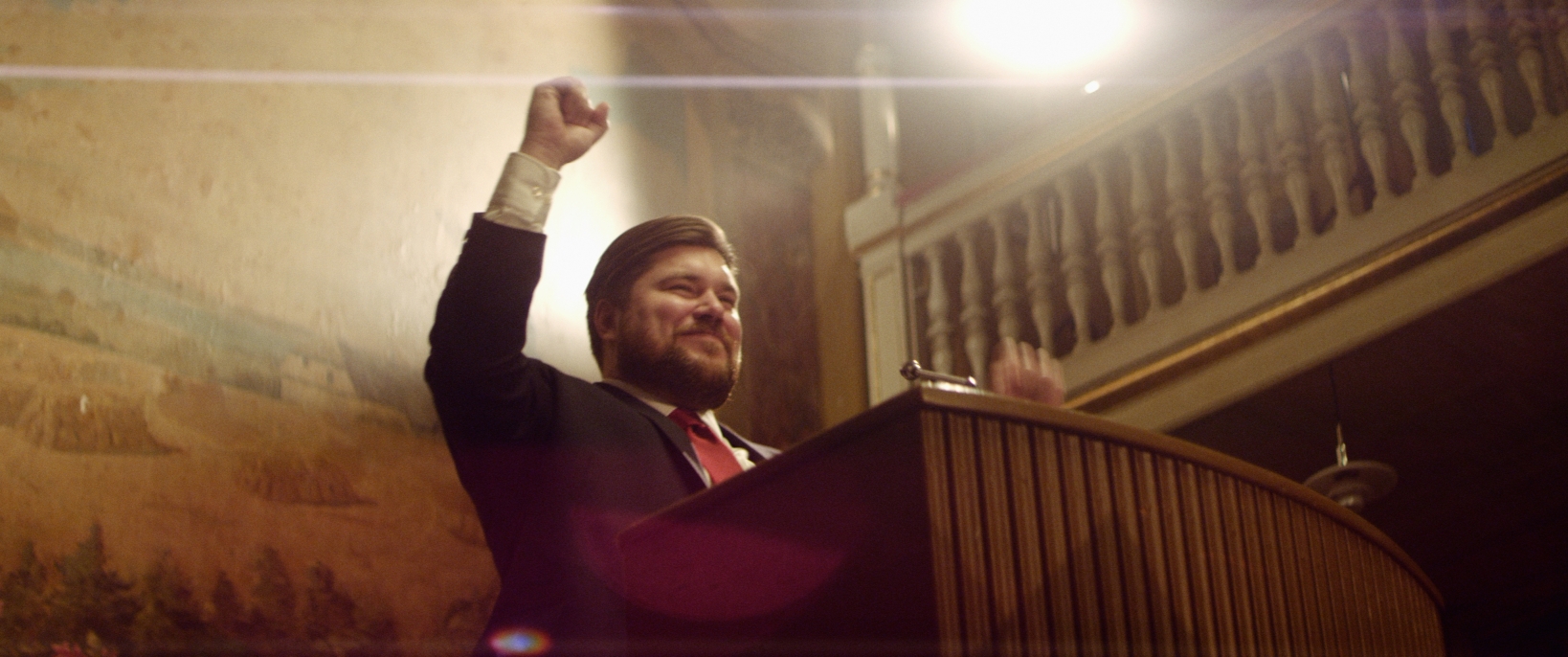 What comes next is inevitable: a group of Muslim men stand, appalled, staring at racist graffiti and severed pigs heads which have been left as a message. It's a horrifying moment as it stands. But Salim ramps it up still further with the use of Mozart's 'Lacrimosa' on the soundtrack, and a saturated colour palette which is only slightly less dramatic than the music.

Zakaria (Mohammed Ismail Mohammed), a 19 year-old of Arab descent, feels compelled to do something, to make his own voice heard. Uncertain of how to do this, he turns to an elder statesman and friend of the family who cautions him, "Are you tired of life? No? Then why are you here?"

Once Zakaria has convinced the older man that is committed to the cause, he is assigned to a handler who will train him for his mission: the assassination of the ultra-nationalist politician Martin Nordahl (Rasmus Bjerg) whose rhetoric has inflamed the underground neo-Nazi group the Sons Of Denmark.




Zakaria is impressionable kid, who lacks the complexity to be a compelling central character so it's something of a relief when the story shifts focus to undercover police officer Malik (Zaki Youssef).

Malik was instrumental in saving Nordahl's life, and must accept the politician's thanks and assurances that the anti-immigrant rants shouldn't be taken personally. "You're not like them." But increasingly when Malik finds himself confronted by an 'us and them' situation, he instinctively sides with those who share his background.

It's a strong performance which taps into the discomfort of being caught between two increasingly polarised worlds. Youssef is a forceful presence in the film, but he is ill-served by a screenplay which seeks to shock in its depiction of hate crimes and violence but loses credibility with its rather slap dash version of police procedure. And credibility is key when the subject matter is as potentially inflammatory as this is.


Rotterdam Review
(IFFR)
A year after a deadly bomb attack in Denmark, ultra-nationalist politician Martin Nordahl and his National Movement are leading in the polls. Influenced by his unabashedly anti-immigrant rhetoric, society has rapidly turned on ethnic minorities, especially those with an Arab background.

In this climate, 19-year-old Zakaria feels compelled to act to protect his own and his family's safety. However, to do what he feels is necessary to turn the political tide, he needs to abandon his mother and little brother. Zakaria gets involved in a radical organisation, where he forms a bond with Ali. The two men cannot agree with the current state of the country, which is turning on its own citizens because of their migration background, and decide to act.

However, they are both just tools in the hands of people with power. As the men try to make their mark, their brotherhood will be tested and their actions will have grave consequences on their lives.
This political thriller has shades of traditional tragedy and revolves around the question: How do you stay calm when society succumbs to fear and hate?

Director Ulaa Salim's script for his feature film debut was inspired by political and societal developments in Denmark and abroad. The fact that the film plays out mostly at night, or in places the sun never shines, underlines its dark undercurrent and claustrophobic atmosphere.

Sons of Denmark
Dir. Ulaa Salim
Denmark. 2019. 118 mins
Synopsis
Cornered by xenophobia, two young men become embroiled in a devilish dilemma. In response to intimidation, Zakaria decides it's time to act, violently if need be. In Copenhagen, a member of the intelligence community tries to professionally combat the threat.
Production company: Hyæne Film
International sales: New Europe Film Sales, jan@neweuropefilmsales.com
Producer: Daniel Mühlendorph Jensen
Screenplay: Ulaa Salim
Production design: Silje Dammen
Editing: Jenna Mangulad
Cinematography: Eddie Klint
Music: Lewand Othman
Main cast: Zaki Youssef, Mohammed Ismail Mohammed, Imad Abul-Foul, Rasmus Bjerg



---