Iranian Film Festival in Zurich
To honor Dariush Mehrjui

Tehran Times,
May 24, 2017

TEHRAN – Veteran Iranian filmmaker Dariush Mehrjui will be honored for his lifetime achievements during the 3rd Iranian Film Festival in Zurich (01 — 07 June, 2017), Switzerland.
He will be awarded a Golden Cyrus Cylinder at the opening ceremony of the weeklong festival on June 1, the organizers announced.
They also plan to screen Dariush Mehrjui's acclaimed movies "The Cow" and "Leila" in a special program.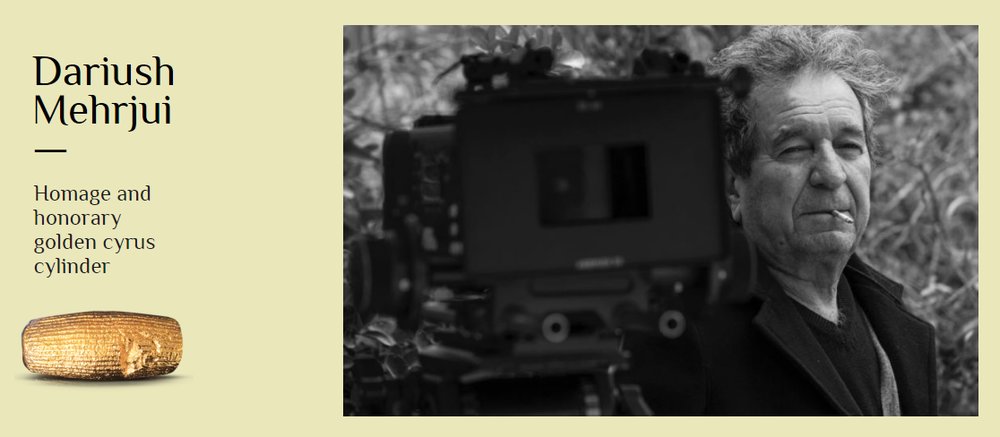 Dariush Mehrjui, born on 8 December 1939 in Tehran, is an Iranian director, screenwriter, producer, film editor and a member of the Iranian Academy of the Arts.
Mehrjui was a founding member of the Iranian New Wave movement of the early 1970s. His second film, The Cow (Gaav), is considered to be the first film of this movement, which also included Masoud Kimiai and Nasser Taqvai.



Dariush Mehrjui's acclaimed movies "The Cow" and "Leila"

Most of his films are inspired by literature and adapted from Iranian and foreign novels and plays. Modern Iranian cinema begins with Dariush Mehrjui. Mehrjui introduced realism, symbolism, and the sensibilities of art cinema.

His films have some resemblance with those of Rosselini, De Sica and Satyajit Ray, but he also added something distinctively Iranian, in the process starting one of the greatest modern film waves.


Since his film The Cow in 1969, Mehrjui, along with Nasser Taqvai and Masoud Kimiai, has been instrumental in paving the way for the Iranian cinematic renaissance, so called the "Iranian New Wave."

Awards
Mehrjui has received 49 national and international awards including:
– Golden Seashell, San Sebastián International Film Festival 1993.
– Silver Hugo, Chicago International Film Festival 1998.
– Crystal Simorgh, Fajr Film Festival 2004.




The festival also plans to pay tribute to legendary Iranian filmmaker Abbas Kiarostami by screening "76 Minutes and 15 Seconds with Abbas Kiarostami", a montage film made by Kiarostami's close friend Seifollah Samadian, and Kiarostami's last film "Take Me Home".
A lineup of Iranian films has been selected for screening in the official competition.
Among the films are "Being Born" by Mohsen Abdolvahab , "Inversion" by Behnam Behzadi, "Polaris" by Sudabeh Moradian , "Breath" by Narges Abyar and "A Long Day" by Babak Bahrambeigi.


The lineup also includes "I" by Soheil Beiraqi, "Life+1 Day" by Saeid Rustai, "Blind Spot" by Mehdi Golestaneh, and "The Descendants" by Yaser Talebi. (ABU/YAW)

* * *

The 2017 edition of the Iranian Film Festival will be dedicated to films on issues of immigration, integration, and matters related to women in Iran and around the globe such as honor, solitude, sacrifice, and love. In addition, the festival will present outstanding films made between 2015 and 2017 about Iran or by Iranian filmmakers about other countries.