Jafar Panahi's 'Taxi'
wins Golden Bear at 2015 Berlin Film Festival


By Kristopher Tapley @kristapley
Saturday, Feb 14, 2015 2:31 PM
The 65th annual Berlin International Film Festival has drawn to a close with Darren Aronofsky's jury settling on awards for films in competition.


Jafar Panahi's "Taxi" walked away with top honors, while the "45 Years" duo of Tom Courtenay and Charlotte Rampling won acting honors.

BERLIN (AP) — Iranian dissident filmmaker Jafar Panahi's movie "Taxi," in which the director stars as a taxi driver talking to passengers as he navigates the streets of Tehran, won the top Golden Bear prize Saturday at the Berlin International Film Festival.



Darren Aronofsky with Panahi's niece, Hana Saeidi

Panahi couldn't be in Berlin but his niece, Hana Saeidi, was on hand for a tearful acceptance of the Golden Bear statuette. "I'm not able to say anything — I'm too moved," said Saeidi, who herself appears in the movie.



Panahi, 54, has been unable to leave Iran after his 2010 conviction on charges of "making propaganda" against the country's ruling system. Authorities imposed a 20-year filmmaking ban on Panahi, but he has continued to make movies.



British actress Charlotte Rampling (L) and British actor Tom Courtenay pose with their Silver

Following big lifts for films like "Boyhood" and "The Grand Budapest Hotel" at the 2014 edition, however, this year's fest didn't sound as loud a thunderclap. But the current Oscar season was still on the brain for reviewers who couldn't resist noting a film like "Victoria's" place in the wake of "Birdman" (the Sebastian Schipper heist thriller was filmed in one continuous take and picked up a prize Saturday for cinematography).



Check out the full list of Berlinale winners below:



Golden Bear (Best Film)
Jafar Panahi, "Taxi"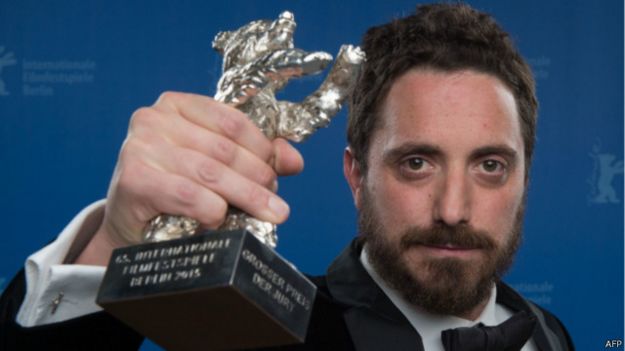 Silver Bear (Grand Jury Prize)
Pablo Larrain, "El Club"


Silver Bear (Best Director)
Radu Jude, "Aferim!"
Malgorzata Szumowska, "Body"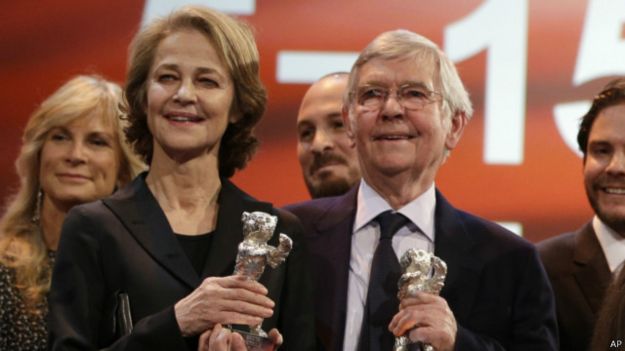 Silver Bear (Best Actor)
Tom Courtenay, "45 Years"
Silver Bear (Best Actress)
Charlotte Rampling, "45 Years"
Silver Bear (Best Screenplay)
Patricio Guzman, "The Pearl Button"
Silver Bear
Alfred Bauer Prize for a feature film that opens new perspectives
"Ixcanul"
Silver Bear
Outstanding Artistic Contribution in the categories camera, editing, music score, costumes or set design
Sturla Brandth Grovlen, Cinematographer, "Victoria"
Sergey Mikhalchuk and Evgeniy Privin, Cinematographers, "Under Electric Clouds"
Best First Feature Award
Gabriel Ripstein, "600 Miles"
Audi Short Film Award
Momoko Seto, "Planet Sigma"
Golden Bear (Best Short Film)
Na Young-kil, "Hosanna"
Silver Bear Jury Prize (Short Film)
Joanna Arnow, "Bad At Dancing"
Read more at http://www.hitfix.com/in-contention/jafar-panahis-taxi-wins-golden-bear-at-2015-berlin-film-festival#2zIFQEeBUHIhA5E5.99
---
Delicious