Luc Dardenne, Jean-Pierre Dardenne
Two Days, One Night • Deux jours, une nuit (2014)


Toronto International Film Festival (TIFF)


A working-class mother (Marion Cotillard) fights to hold onto her job, in the new film from master filmmakers Jean-Pierre and Luc Dardenne.
Sandra, a young Belgian mother, discovers that her workmates have opted for a significant pay bonus, in exchange for her dismissal. She has only one weekend to convince her colleagues to give up their bonuses so that she can keep her job.



The Dardenne brothers (Luc Dardenne, Jean-Pierre Dardenne) deliver again. Never afraid to tackle difficult subject matter, this time around the celebrated Belgian filmmakers take on the European economic crisis.

Two Days, One Night tells the story of Sandra (Marion Cotillard), a working-class mother who loses her job, but who has a fighting chance — and one weekend — to get it back.

Almost immediately after returning to her factory job following a mental health leave, Sandra is laid off because her fellow line workers voted to receive a bonus rather than to keep her as the seventeenth person on the team.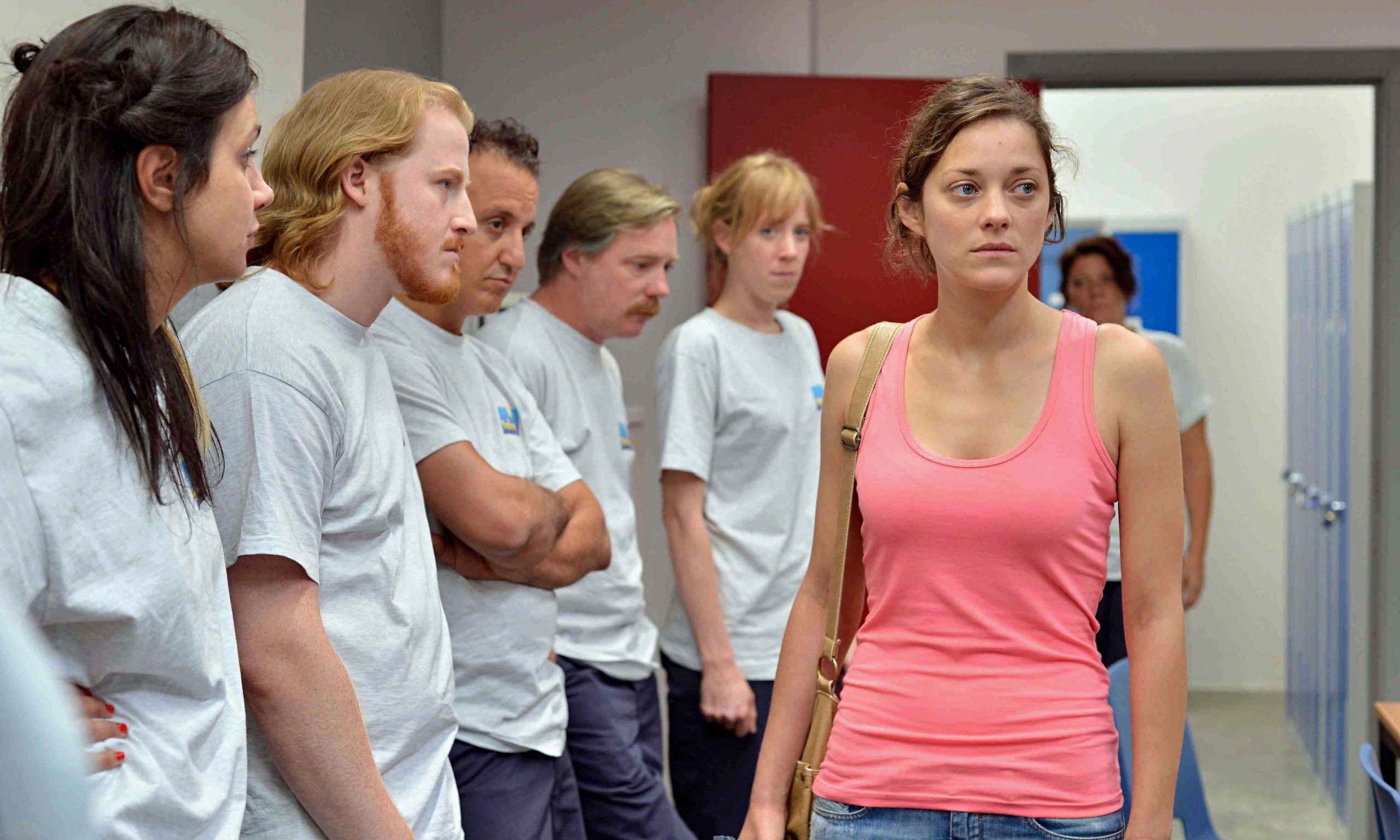 When she learns that their team leader persuaded them to vote against her under false pretenses, Sandra convinces the plant manager to hold a second, secret vote. It's now Friday afternoon, leaving Sandra only two days and one night to save her job and, quite possibly, the life her family knows.

Swallowing her pride, Sandra sets out with her loving husband (Fabrizio Rongione) to convince her sixteen co-workers, one by one, to vote in her favour.
Partnering with their long-time collaborator cinematographer Alain Marcoen, the Dardennes shot Two Days, One Night in their signature realist style.

Adhering to their story's procedural rhythm with long takes and hand-held shots, they envelop us in Sandra's world and bring the human face of Europe's economic crisis to the fore.


Cotillard does brilliantly subtle work here as Sandra, perhaps her most unassuming role to date, always giving us a glimpse of what lies beneath. Despite the high stakes and mounting tension around Sandra's situation, we're reminded that — whether it's enjoying an ice cream in the park, finding a killer song on the radio, or the simple act of listening to others — there's much that can be accomplished, and savoured, in two days and one night.


Film Information

Director(s): Luc Dardenne, Jean-Pierre Dardenne
Country: Belgium/France
Year: 2013
Language: French
Premiere Status: Canadian Premiere
Runtime: 95 minutes
Rating: 14A

Visit Film Website
/Two Days, One Night
@mongrelmedia

Cast & Credits

Producer: Luc Dardenne, Jean-Pierre Dardenne, Denis Freyd
Production Company: Les Films du Fleuve
Principal Cast: Marion Cotillard, Fabrizio Rongione, Pili Groyne, Simon Caudry
Screenplay: Luc Dardenne, Jean-Pierre Dardenne
Cinematographer: Alain Marcoen
Editor: Marie-Hélène Dozo
Sound: Jean-Pierre Duret, Benoit De Clerck, Thomas Gauder
Production Designer: Igor Gabriel

Contact Information

Canadian Distributor: Mongrel Media
US Distributor: IFC Films
International Sales Agent: Wild Bunch

---
Delicious