The Act of Killing
Nick Fraser: don't give an Oscar to this snuff movie!


TheGuardian, Nick Fraser
The Observer, Sunday 23 February 2014

'The Act of Killing won the documentary prize at the Baftas last week and is the favourite to win the much-coveted Oscar...

"A 'snuff film'? Seriously?! Well congratulations Mr Fraser for just having sided with pretty much the darkest forces here in Indonesia", says Daniel Jakarta.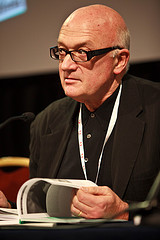 "The Act of Killing won the documentary prize at the Baftas last week and is the favourite to win the much-coveted Oscar. I watch many documentaries on behalf of the BBC each year and I go to festivals. I'm a doc obsessive.


By my own, not quite reliable reckoning, I've been asked by fans to show The Act of Killing on the BBC at least five times. I've never encountered a film greeted by such extreme responses – both those who say it is among the best films and those who tell me how much they hate it. Much about the film puzzles me. I am still surprised by the fact that so many critics listed it among their favourite films of last year." --Nick Fraser


Daniel Jakarta's answer to Nick Fraser:
23 February 2014 4:30am
TheGuardian
A 'snuff film'? Seriously?! Well congratulations Mr Fraser for just having sided with pretty much the darkest forces here in Indonesia (paramilitary groups, thugs, etc) who wish very much to continue the decades-long cover up of the 1965 genocide. I'm alarmed that such an esteemed figure in the documentary world would offer such a simplistic interpretation of a brave, clever, complex film that clearly doesn't - not even for a single scene - glorify murder.

On the contrary, the film forces a very hard look at the banality of evil, about how we are all complicit in these deeds, about how power utterly corrupts, and continues to do so in today's Indonesia. Most importantly, this film has single-handedly opened up a discussion in Indonesia on the truths traumas of 1965, and I've now met countless victims and survivors who embrace the movie as acknowledgement of their terrible suffering and loss.

By dismissing this as a 'snuff film', Fraser is the one completely disregarding the plight of the victims. I really cannot remember reading a more malicious 'review' of a film, and one that blatantly instructs Academy members what not to vote for. I'm genuinely curious to know which competing documentary nominee Fraser is involved with. Because there's no other way to explain this cheap hatchet job, which has got to be a new low in negative Oscar campaigning.


Jeffrey Winters' answer to Nick Fraser:
23 February 2014 9:08am
TheGuardian
I first went to Indonesia thirty years ago and have been researching and writing about the country ever since. I teach about Indonesian politics, society, and history at Northwestern University. Let me begin by saying that "The Act of Killing" is disturbing, haunting, and profoundly important. There is one Indonesia before this film, and another Indonesia after. And the conversation within and about the place will never be the same again. Especially the discussion about 1965 and the effect it has had on three generations of Indonesians.
There is so much that is wrong and distorted in Mr. Fraser's review. I will mention just one passage that sums up, I think, how little he understands about the context of the film and what makes it (and Indonesia) so different from the comparisons he tries to draw.


Mr. Fraser says that making "The Act of Killing" is tantamount to going to Argentina, finding a bunch of Nazis, and getting them to make a film entitled "We Love Killing Jews." He is onto something--only he completely misses the point. You'd have to go to Argentina to talk to murderous Germans. And they wouldn't just be ageing Nazis, they'd be hiding and fearful Nazis.
Meanwhile, the killers in Oppenheimer's film are back home in Indonesia. They never ran and they certainly never felt a need to hide. They are not afraid--they are feared. In every other example Mr. Fraser mentions (including Cambodia), the killers lose, they are reviled, pursued, and sometimes put on trial for crimes against humanity.
In Indonesia, they either received a hero's burial with full state honors if they were the commanders, or they thrived as celebrated local heroes like Anwar Congo if they were the minor thugs doing the actual killing (as in North Sumatra). What Mr. Fraser fails to appreciate is that the film captures the surreal normalcy of all of this. You would have to imagine a Germany in 2014 in which the Nazis won to find anything remotely close to what Oppenheimer renders on film about today's Indonesia.
But they didn't win, and therefore you can't film this movie in Germany, Cambodia, Chile, Rwanda, Bosnia, or South Africa. Mr. Fraser's misguided comparisons suggest he simply does not understand what is different about Indonesia and this film.
As you watch Anwar Congo and his friends, you are forced to ask the same question that always arises when we confront the perpetrators of any massacre: "How could they have done that (back then)?" But as you watch the killers theatrically perform their murders today, this film provokes an equally jolting question: "How can they be doing this (now)?" Answer both questions (who can?) and you will begin to fathom some of the disturbing aspects of contemporary Indonesia that "The Act of Killing" forces everyone, including Indonesians themselves, to confront.
This movie has done something that few ever do. It has jump-started a conversation that is long overdue and will not end any time soon. My students in the US are asking "Where was the US during all of this... what did we do?" The answers are not pretty. My students in Indonesia are asking "Did we really massacre hundreds of thousands of innocent people?" Their history books, written by the winners still in charge, say the victims deserved it. Oppenheimer's film has already emboldened tens of thousands of young Indonesians to ask tough questions. Oscar or not, the die has been cast.


---
Delicious